Soliman Cruz, the surprise man in European film 'To the North' │ GMA News Online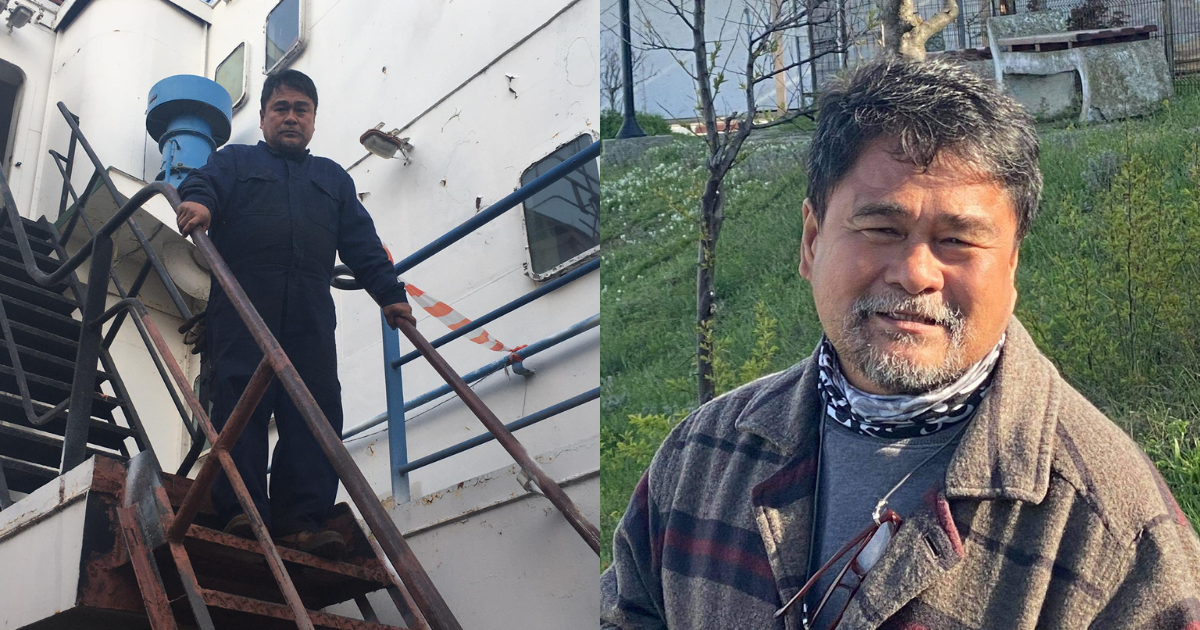 LOS ANGELES — It's always a joy for us to discover new talent at film festivals.
Soliman Cruz, the main man of a Romanian film, "To the North", surprised us during our visit to the Venice Film Festival. His calm and serene portrait of Joël, a simple sailor who discovers a stowaway in a freighter, impressed us. He tries to hide the stowaway from his strict Taiwanese officer bosses who are sure to get rid of him. But hiding the stowaway also risks his life and that of his fellow Filipino sailors (played aptly by Bart Guingona and Noel Sto. Domingo).
Directed by Romanian director Mihai Mincan, the film is based on a true story that took place in 1996. During his shift on the deck of a transatlantic ship, Joel, a Filipino religious sailor, discovers Dumitru, a Romanian stowaway hidden between containers. If spotted by the Taiwanese officers running the ship, Dumitru risks being thrown overboard. Joel decides to hide it, as a sign of gratitude to God. Soon, a dangerous game of cat and mouse begins.
"Spre Nord ("Towards the North") started from a radio documentary. A story that took place in the spring of 1996, in the Atlantic Ocean. In the center was an ordinary man: Joel, a Filipino sailor." Mincan said.
"One day, while on deck duty, sailing to the United States, Joel discovered a Romanian stowaway. In a second, he had to make a decision that would change his life. Exposing the young man , thus practically sending him to a death? Or follow his faith and his heart and help the stowaway, thus putting himself and his crew in danger? At that moment, I knew this was the movie that I had always wanted to do. A story about moral choices, kindness and compromise, courage and fear. A film that could speak to people about their own lives."
This is Mincan's first feature film, with a degree in philosophy and over 10 years of experience as a journalist. The 122-minute film where English, Tagalog, Spanish, Romanian, Bulgarian and Mandarin are spoken is a collaboration of several countries: Romania, France, Greece, Bulgaria and the Czech Republic.
We were able to interview Cruz via Zoom while he was at home in the Philippines. Cruz spoke in pure Tagalog and we translated most of them but kept some of his answers in Tagalog. Below are excerpts from our conversation.
We were impressed with your performance in "To the North" and were surprised that you got the lead role. How did you get this role?
If you were surprised I got the lead role, I was more surprised myself. I did not expect that. I'm a supporting actor here in the Philippines, so I didn't expect to land the lead role.
My Romanian director Mihai Mincan is a Lav Diaz fan, so he watched a lot of Lav Diaz movies. He saw me in one of Lav Diaz's movies and he asked his producers to find me and contact me.
So you actually had your big break with Lav Diaz. Can you compare the directing styles of Lav Diaz and your fellow director Mihai Mincan?
Lav has so many elements of surprise. You will not read your script until the same day. He gives the script in the morning. As an actor, your mind must be blank. You shouldn't talk about his style. Your mind must be open. Once you get the script, you memorize it.
Mihai Mincan is very precise with a script ready and a two-week rehearsal. He will explain what he wants to happen in the scene. He studied philosophy and humanities.
If Lav matrabaho siya. Paghandaan mo. Clear your mind.
What was it like working with different cultures and races on set? You have Taiwanese, Romanians and Filipinos on set.
I am happy. It's like a tapestry of different races. I'm happy because it's also my first time working with different races and cultures. When it comes to making the scenes, we are all focused on making the scenes.
How was filming in Romania? Did the film take four years to make?
The negotiations lasted four years. But the shoot only lasted three months. We had a month dedicated to rehearsals. We first shot in Romania and then we went to Greece. Nabutan kami of COVID-19. But they didn't let us go. They really cling to us. They really wanted me to play the lead role.
Shooting in Romania was very precise. When we have to do our scenes, the director will either say "Let's do the scene like you did in our rehearsal" or he'll say "Forget what you did in rehearsal and surprise me. Just do your own interpretation."
Did you have to audition? Many have applied?
There was no hearing. The director only watched Lav Diaz films like "Norte, the end of history" and they saw me. I'm so lucky they love me. Bart Guingona and Noel Sto. Domingo are also Lav Diaz actors whom they adored. That's why we're all in the movie "To the North".
What was the hardest part of making the film?
I have problems with my knees. It was very cold in Romania, and we even filmed in the boat. It was so cold that I had to do something because it was affecting my knees. First, I didn't eat rice. I put pads on my knees, but I shouldn't have because it stopped the blood flow. Then I knelt in front of the stowaway in one scene and after that scene I just collapsed.
So for the next few days, instead of putting pads on my knees, I just took painkillers every day. They had a doctor on board, so it was supervised by a doctor.
What type of research did you do for the film? How did you prepare for the role?
I'm lucky because I live here in Ermita and there are a lot of sailors here. I can just go down to eat in the canteen and watch all the sailors. Then I talked to them a lot and observed them.
What do you think this film would mean for foreign workers?
This film is in fact the relationship of a sailor to God and to his neighbour. He believes in his God, but he has forgotten to think of his fellow men.
How do you relate to your character? Are you also religious?
I'm not religious, but I believe in the higher power. The plot of the story is really about Joel not seeing God in people but just seeing God. Duon siya nakulong.
You've had challenges in your life like drug addiction and homelessness. Do you believe that being an actor saved you and helped you survive?
'Yung sa akin nung tinanggap ko ang aking addiction I was also accepted by my friends and family; I started going to treatment and went to rehab several times. I was cured but then went back to rehab. But when I became a dad, I became more sincere and honest with myself.
How many children do you have?
I have three biological children and a stepdaughter.
Have you ever had the chance to talk to the real Joel?
I wanted to but the director said Joel didn't want to go back to that part of his life.
How important is the Venice Film Festival and other festivals to you? Do you think it really helps actors get known around the world?
Hindi po sa nagmamalaki ako, but for me, I don't think much about it. I don't see that as a big problem. Napansin lang po the performance with dahil overall.
Everyone participates: the director, the clothing consultant, the team. It's all included in my performance.
You have lost your luggage which contained your tagalog barong and your tuxedo. Did you finally get it?
Go to Venice Marco Polo airport. My manager had a friend there and will send him here. I have to take care of this.
What are your future plans?
Kahapon po we had a production meeting for a children's theater workshop here in Tondo. It will start in November. And then I have television films as a guest star. I also have a teleserye I have to do in October for half the month.
Any other trips or film festivals for you?
Wala muna po. Magastos po to maraming mga requirements.
Do you think "To the North" has a chance to air in the Philippines?
Yes, I hope so because they are Filipino sailors. It is their market. I believe the director of the Quezon City Film Festival is interested in showing the film.
—MGP, GMA News